At one of my favorite thrift shops, I recently found this gold mine:
A huge selection of patterns, all for only 25 cents each. The best part is that many of them are older patterns and have that vintage look that I love.
This is one of the patterns I bought and used today.
I whipped up these cute little pajama shorts in about an hour.
I love the combination of the brightly colored printed fabric and the earthy linen drawstring.
The cotton fabric is Alexander Henry in Masai Swirl. The drawstring is linen purchased at Hobby Lobby.
I went out on a limb today and made a
Facebook
page and a
Twitter
account, both of which I'm still a little confused about how to use. Both are sitting lonely with next to no likes. Maybe you could make me feel cool and visit? That would probably make me feel a little less lame..
Both the Facebook page and Twitter are just another way of keeping up with posts. Not everyone has a google account but many of us have other social networking accounts. I'm working on making some nice little buttons for the sidebar. Maybe I'll get them up tonight..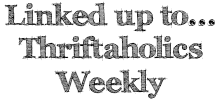 ...